Wood is mounting an unprecedented comeback. From designer brands to Do It Yourself (DIY) home renovators, it is suddenly everywhere, and suppliers need to keep up.
Matti Mikkola is Managing Director of the Federation of the Finnish Woodworking Industries, an alliance of companies that make products from wood. He sees the popularity of wood as strongly connected to the fight against climate change.
"Clearly, it is because of climate impact that there is more wood construction in new builds and also more wood in renovation projects."
As the Covid-19 pandemic hit, demand for wood reached record levels around the world. A big part of this growth came from the DIY segment, where countless home renovators pursued their pet projects.
"Starting from March 2020, we actually first saw a decrease in the demand for wood due to the general corona scare. After that, it just took off."
Mikkola says that wood has plenty of great qualities alongside its climate friendliness. It brings down stress levels and allows you to relax. Its good acoustic properties are well-known and it is also visually pleasing.
"In addition, wood is a durable material - with good design and proper care wood products last for hundreds of years."
Construction and furniture businesses are now trying out new things.
"Great R&D is being conducted all the time, so it is very likely that we will see much more wood being used in the future."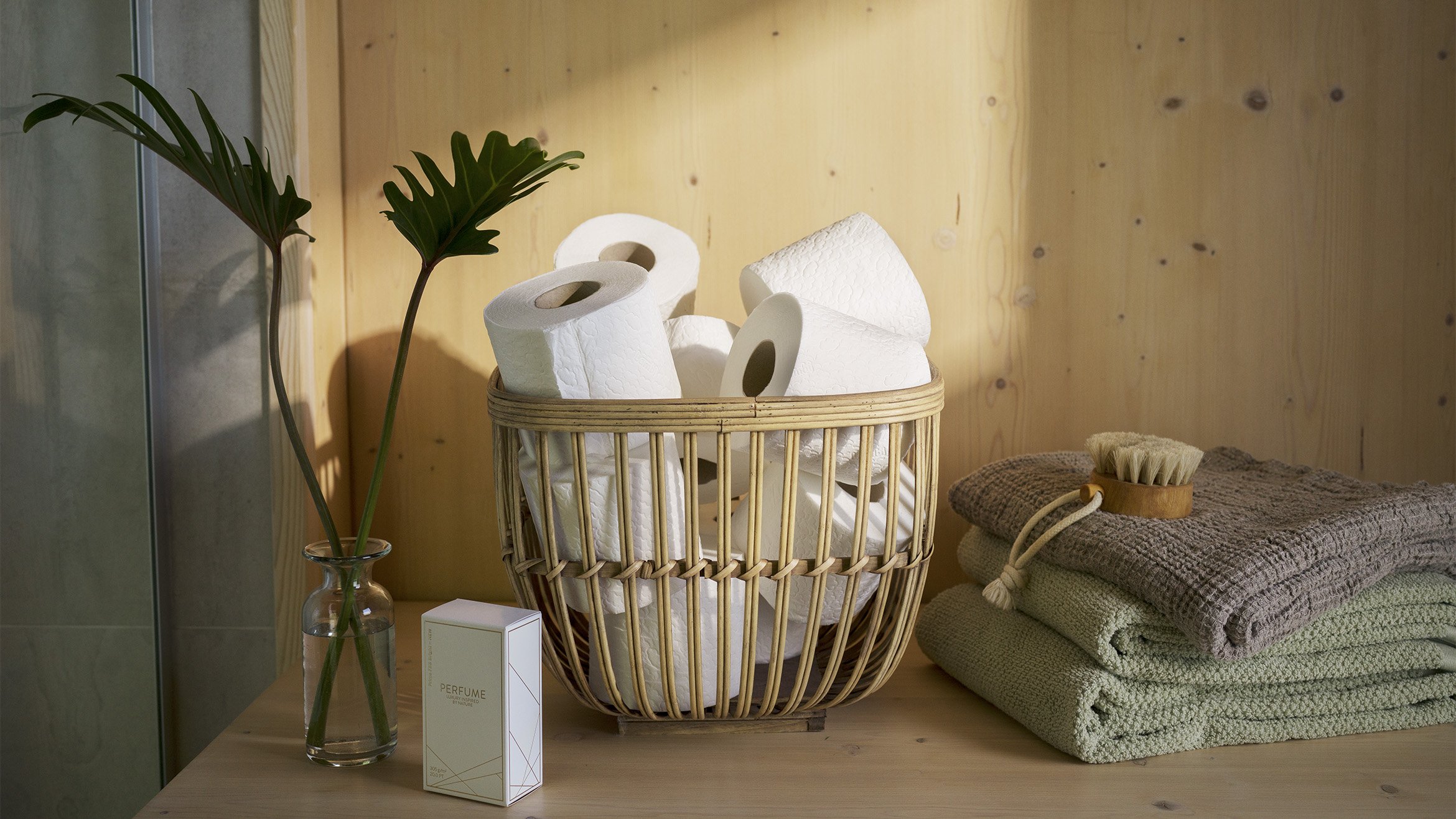 Wood transforms the bathroom
A good example of wood-related innovation is the Finnish startup Woodio. Around 2015 it came up with the idea of making wooden tiles for the bathroom. CEO and founder Petro Lahtinen explains that the core idea sounded fun and challenging – but also important from a sustainability perspective.
"Bathrooms use ceramics which are a burden on the environment and come with a large carbon footprint."
Lahtinen holds a PhD in chemistry from the University of Helsinki – and wasted no time in tapping into his broad networks to develop the idea.
"We had dozens of people from various universities participating in the innovation process. It was a really multi-disciplinary effort that yielded great results," he says.
Despite all the talk of the 'second coming' of wood, we feel actually that wood never went away.
Wood is sustainable
Woodio is the world's first 100 per cent waterproof solid wood composite designed to replace ceramic and stone materials sustainably. The first products were launched in 2018, with a more robust commercial push taking place the following year. Ranging from interior panels to wash basins, bathtubs and toilets, Woodio's portfolio brings together the best of Nordic design traditions and the use of sustainable bio-material innovation.
"We are getting some of our wood chips from Metsä Board's Joutseno mill, and we plan to source all chips from Joutseno eventually," Lahtinen says.
With exports now to 26 countries, Woodio keeps building momentum. The vision is to become a globally leading ecomaterial brand, says Lahtinen.
"Despite all the talk of the 'second coming' of wood, we feel that it never went away. As a natural, sustainable material it is always in demand."
Thermal wood market is heating up
Another pioneer in wood use is Estonia-based Thermory, the world's largest manufacturer of thermally modified wood and sauna materials.
The company's product range includes decking, wall panelling, cladding and floorboards made of thermally modified wood as well as industrially painted wooden products for indoor and outdoor use.
Andres Kangur, Group Marketing Director, says that since the beginning of the pandemic, Thermory has seen a strong increase in demand for high quality wood products from its customers around the world.
"Group revenue increased in 2021 by 30 per cent, driven partly by price increases, but also by strong volume growth. The largest increase has been in our custom-made sauna business area."
Recently, Thermory has significantly broadened its international customer network, which sells high quality sauna building materials, sauna products like benches and doors and ready-made designer saunas.
"The main growth has come from domestic Baltic and Finnish markets, but we have also made strong progress in the USA, Germany and many other European markets."
Wood is a great building material, because it is beautiful, functional and sustainable.
Thumbs-up from designers and architects
Kangur points to wood's range of competitive advantages.
"Wood is a great building material, because it is beautiful, functional and sustainable. There is plenty of evidence to support the use of wood in both interior and exterior applications. We believe that more and more customers – architects, designers, developers and homeowners – will re-discover its beauty and versatility."
He remarks that sustainability is becoming "a natural way" of doing business. As part of this, Thermory has long maintained its focus on sourcing high-quality certified raw materials and partnering with green-thinking companies.
Its cooperation with Metsä Group started in 2017. The learning curve was pleasantly short, as Metsä had experience in thermal modification of softwoods, he explains.
"Collaboration began with the most common pine decking dimensions and grew from there."
Wood is selling out at hardware stores
The wood renaissance is also evident at K-Rauta, a leading Finnish hardware chain that is part of Kesko Corporation. Green values cut to the core of the company: Kesko is the only company that has always been on the list of the Global 100 Most Sustainable Corporations. The list, compiled by Corporate Knights, was first established in 2005.
Juha Huusko, International Category Director at Kesko, says that wood became a major hit for K-Rauta shortly after Covid-19 arrived.
"In 2020, the Finnish market was 250,000 cubic meters for impregnated wood products for deckings and other outdoor needs, while normally the market's size is around 200,000."
Over 90 percent of K-Rauta's wood is domestic, with Metsä Group as an important supplier.
"Our long-term collaboration with Metsä has only strengthened lately," he says. Customers increasingly appreciate the wood traceability data that Metsä can provide with great accuracy.
Wanted: a new deck in the backyard
Brand Director Tarja Viilola at Kesko says that, during the pandemic, the Finns have really taken to doing small renovations indoors and fixing up the yard.
"As a trend, it is clear that people want to invest in their yards and spend more time there. Indoors, they are using wood because it is a natural, soft material that breathes."
Huusko believes that the current global green transition will expand the reach of wood tremendously.
"Wood construction is going strong, but there are also efforts to replace plastic with wood-based material."
Viilola agrees that the sustainability megatrend will elevate wood use everywhere.
"In the meanwhile, it is up to us to educate the consumers about the use of proper certificates and other responsibility factors involving wood."
Wood is appreciated globally
The biggest global brands value wood. Last year Swedish IKEA announced its new forest agenda for 2030, ramping up its work to enhance biodiversity, mitigate climate change and drive innovation to use wood in smarter ways.
IKEA has already reached its goal of more sustainable sources. Today more than 99 per cent of the wood used for IKEA products is either certified or recycled.
Jukka Tapani Vornanen, Global Wood Supply Manager for IKEA, points out that wood is the main material in IKEA products – as well as an essential part of the company's heritage.
"IKEA loves wood – and so do our customers," he says.
In addition to being durable, renewable and recyclable, it is highly aesthetic:
"Wood as a material is beautiful, it feels comfortable and it creates energy. More and more, we are seeing customers who appreciate and have an interest in the material itself."
Plenty of innovations to come
Regarding the evolution of wood, Vornanen notes that wood engineering is bringing new lightweight wood structures to the market.
"We are excited about all the innovation that is cooking now and want to be a part of the scaling-up process," Vornanen says, adding that a lot of the fresh ideas originate in Finland.
"We find that some of the highest quality softwood comes from Finland. We greatly value our partners in Finland and rely on them as well as on other Nordic countries that have state-of-the-art sawmills."
---
This article was originally published in Timber Magazine issue 2022–2023.