Sustainability is shaping the face of packaging. Big brands and smart consumers are looking for sustainable, biodegradable, recyclable and even reusable solutions.
"We are talking about one of the largest industries in the world. Packaging is used in food, consumer goods, equipment – basically everywhere," says João Cordeiro, Global Head of Pulp & Paper for AFRY, an advisory services supplier.
"Well-designed packaging protects the contents it carries, avoids damage during transport and preserves the product's original properties. It also promotes the goods to consumers."
The main packaging materials used today globally are plastics, metals, glass, wood, and paper and board. Cordeiro points out that plastics still account for the lion's share of the industry thanks to their cost, weight, and diverse usability.
"Renewable fibre-based packaging consists mainly of paper and boards. Today it totals some 230 million tonnes globally and is the second largest packaging raw material. And it is gaining market share from many other substrates," says Cordeiro.
"Moving away from plastic calls for a major transformation of the global packaging industry. Driven by increasing consumer awareness, regulators, brand owners and material providers are seeking innovative approaches to sustainable packaging."
The cartonboard industry has many opportunities to grow.
Growing demand for fibre-based materials
Cordeiro has observed enthusiastic new strategic choices in the design and material selection of several leading global brand owners. Many have announced strong commitments to reduce their packaging carbon footprint, with the use of unsustainable plastic materials as a clear "no-no".
Unilever, for example, a multinational consumer goods producer, has announced that by 2025 it will half its use of virgin plastic, a reduction of more than 100,000 tonnes per year.
"After more than fifty years of growth, plastic packaging usage appears to have peaked and is beginning to decline in many countries and for many packers. Likewise, regulators – national, regional, or municipal – are also concerned with the problems caused by single-use plastics."
Against this background, it is no wonder that demand for fibre-based packaging materials is growing. The global market for cartonboards is reaching 50 million tonnes. Most of this volume consists of folding cartons used for the packaging of consumer and fast-moving goods such as food, confectionary, beverages, cosmetics, and pharmaceuticals.
"The cartonboard industry has many opportunities to grow."
Innovative barriers
With plastics heading for exit, it is important to recognise the role of barriers in boards. Many cartonboards receive a plastic coating layer of some sort, Cordeiro says.
"Typically, board-based packages need a very thin PE-coating layer to provide additional barriers – for example against water or gases. These are necessary in many applications to assure adequate packaging functionality."
He believes that, for the high-quality coated cartonboard segment to keep growing, a combination of mechanical and chemical pulps is needed.
"Both short and long fibre chemical pulps are needed for these folding packaging applications. Our recent estimates indicate that the global demand for bleached kraft market pulps within the packaging segment alone will exceed 10 million tonnes by 2035."
Transition away from plastic
Mark Beamesderfer, Packaging Services Director, Americas for Metsä Board, agrees that real change is happening around us.
"The transition away from plastic is taking place at an accelerated rate, due to government legislation to reduce and eliminate many traditionally plastic packaging products and utensils," he says, adding that there is a lot of confusion in the marketplace.
"We find ourselves in a situation where we used to have plastic straws wrapped in paper, but now have paper straws wrapped in plastic."
Beamesderfer believes the Covid-19 pandemic and its effects on supply chains and material availability have also impacted the market by disrupting sustainable packaging initiatives. Many grocery store or restaurant takeout containers have regressed from paperboard back to plastics.
"Rest assured, as we put the pandemic behind us and supply chain issues rectify themselves, we will see a strong resurgence of paper-based packaging. Brands will get back to focusing on their sustainability commitments, incentivised by the increase in global oil prices and subsequent effects on the price of plastic."
Beamesderfer observes that so far plastic has offered visibility, in very concrete terms. The use of plastics provides consumers with a window into the package so that they can view the contents prior to purchase. But does the consumer really need to see batteries, disposable pens or lighters before purchase?
"Now a vast number of purchases are researched, chosen, and ordered online. It is up to the packaging service components of pulp and board manufacturers to continually challenge brands in reinventing their packages for product display that have traditionally been made with plastic components."
Sustainability at the source
The quality and sustainability of wood is obviously the starting point of environmental-friendly packaging. Our experts can help board manufacturers to find the best solutions, says Tom Nickull, VP, Sales Services for Metsä Fibre.
"When it comes to demanding industries, such as food and beverage, traceability of the entire value chain is very important – and something that the big brands have come to insist upon. In addition, pulp production itself needs to consider the environment at all times and ensure product safety with certificates."
For Metsä Fibre, having high-quality Nordic wood as the raw material is a huge deal.
"We have excellent wood to work with here, yielding clean virgin fibre. The quality of the fibre is developed further by our production process."
It is part of our core competence to come up with the fibres required for structures that are light but also sturdy enough.
Fibre can go the distance
Metsä Fibre has made a name for itself with its knowledge of different fibre types. The food and beverage sector certainly appreciates the innovative, lighter structures that have resulted from this know-how.
"It is part of our core competence to come up with the fibres required for structures that are light but also sturdy enough," says Nickull.
As for the future of packaging, he agrees that a sea change is taking place; plastic is on its way out and sustainable alternatives are advancing by leaps and bounds.
"Wood fibre, as a great renewable material, is certainly one key here. There is a lot more fibre can achieve."
Paperboard lid for a coffee cup
In many regards, innovation is just waiting to happen all around the packaging industry.
Matti Salonoja, founder of The Paper Lid Company, recognised the need for a paperboard lid for take-away cups years ago – and eventually decided that he was going to do something about it. Teaming up with a friend Ilkka Harju, who is the Packaging Services Director EMEA and APAC at Metsä Board, Salonoja set out to create a fully recyclable paperboard lid.
"We tested the first version of the lid back in 2016 and the final breakthrough came in 2020."
In January 2022, the revolutionary paperboard lid finally hit the market. By summer the sales of the product had reached 20 million units.
"Our lid is only 20–30 per cent more expensive than the traditional plastic lid and it cuts the carbon footprint by at least half," Salonoja says.
His pitch has made waves around Europe. The United Kingdom is presently the number one export destination for the "it" lid, with Germany as the runner-up.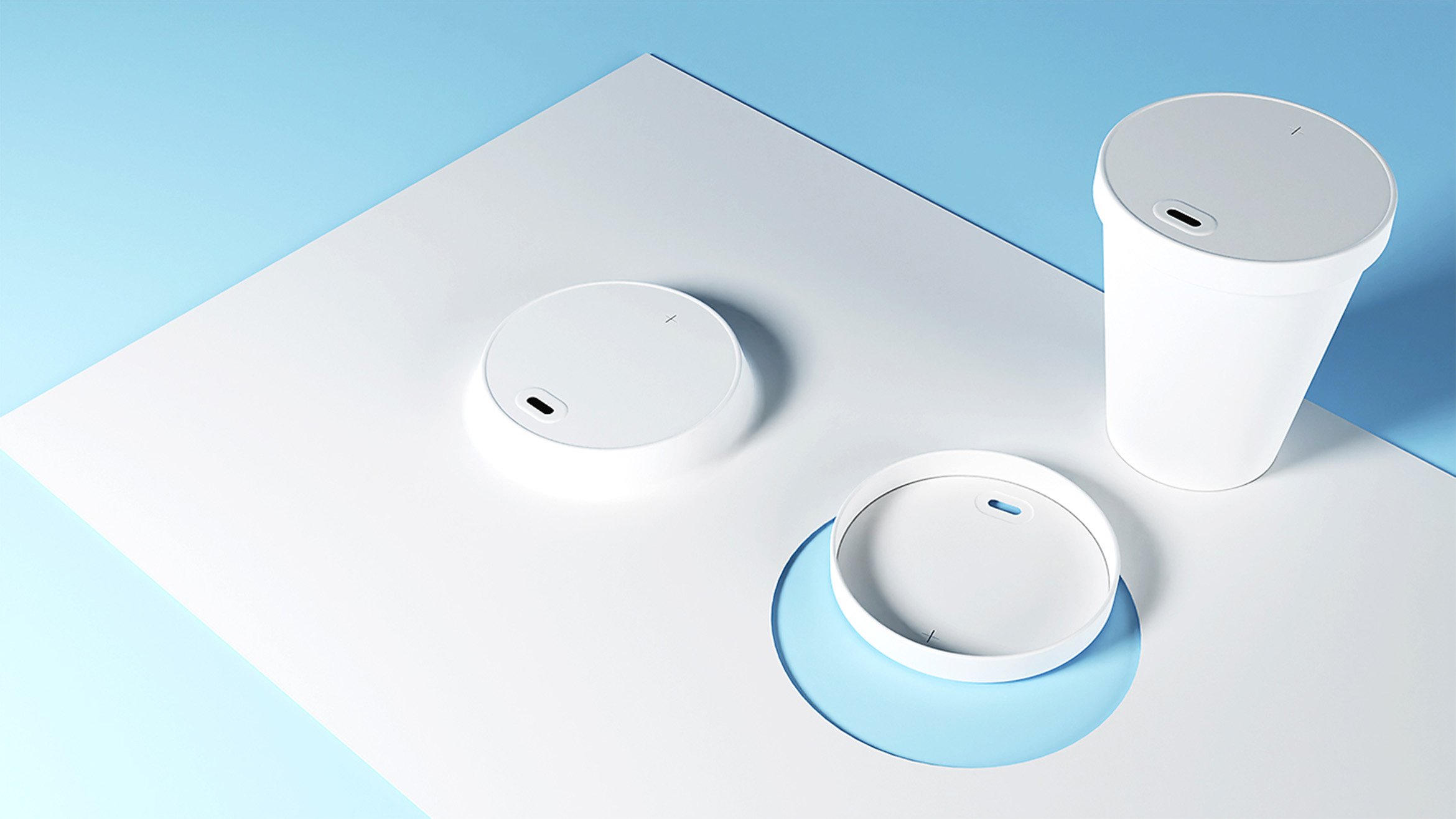 Novel technology
But what is all the fuss about? The lid is made from fully recyclable dispersion coated barrier board, and it is suitable for use with both hot and cold beverages. It uses a novel technology developed by The Paper Lid Company that allows the paperboard to be formed into the desired shape, explains Salonoja.
"The result is a one-piece lid that clicks firmly in place, offering performance that is on a level with a traditional plastic lid."
He points out that paperboard made from renewable fresh fibre is a great sustainable raw material – and something that both brands and consumers can feel good about.
"By pooling our expertise with Metsä Board, we were able to innovate a new solution for the takeaway cup market."
Salonoja sees similar opportunities all around the food and beverage sector.
"If the cost of making these types of packaging solutions remains moderate, we will see some radical changes in the industry."
It is clear that companies big and small are looking into packaging to promote sustainability.
When bakery goes green
It is clear that companies big and small are looking into packaging to promote sustainability. Finnish bakery Viipurilainen Kotileipomo is a century-old family business with an eye for green solutions.
Teppo Ylä-Hemmilä, Bread Artist & Head of Innovation, says that as the bakery started the search for a new packaging solution for their pastries and cakes, there were two key requirements.
"We wanted to bring down the environmental footprint of our packages and also find a solution that takes time off the assembly of the package."
Viipurilainen and Metsä Board's package design team from Äänekoski Excellence Center got to work on developing a package that is 100 per cent recyclable and resource effective. The outcome is a new package that cuts CO2 emissions by 34 per cent and reduces material requirements by 25 per cent.
"We were also able to reduce the amount of plastic used, which was a big deal for us," says Ylä-Hemmilä. The new packages were launched in January 2022.
Even with relatively small bakery operations, the numbers add up over time. During the Covid-19 pandemic, for example, the bakery used about 20,000 packages a year. A little change goes a long way to making things more sustainable.
"This year, we are placing extra emphasis on sustainability issues and want to keep developing on that front. We feel great about our collaboration with Metsä Board. It really makes a difference."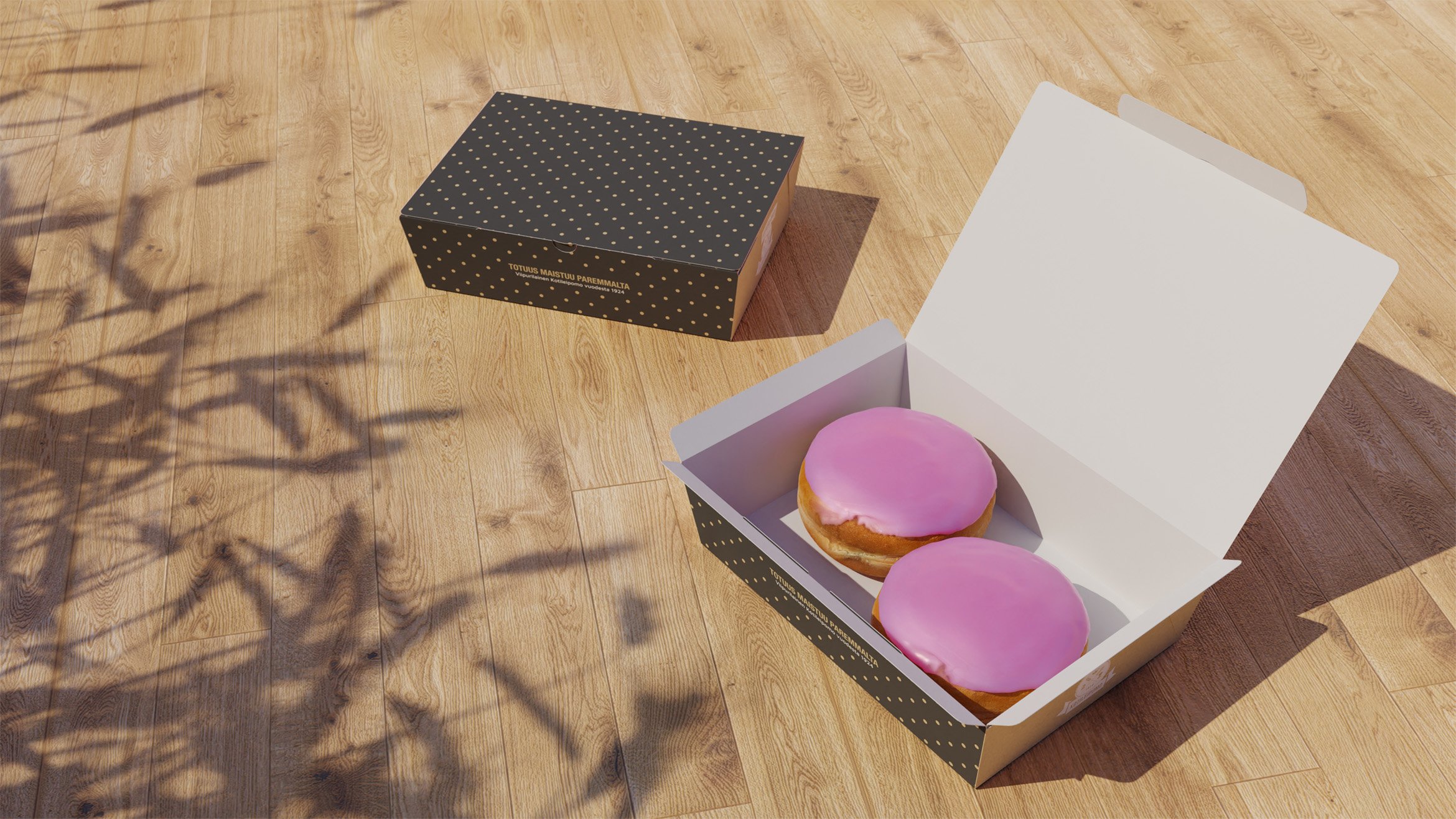 Chocolate lovers delight
Kultasuklaa is another Finnish family enterprise with a strong focus on sustainable packaging. A maker of chocolates, Kultasuklaa wanted to have less plastic in its packages. In talks with Metsä Board, a sustainable solution emerged. The company's "It's all about love" praline box features dispersion coated barrier board MetsäBoard Prime FBB EB.
"We were able to reduce the share of plastic in the product considerably," says Juri Kaskela, owner of Kultasuklaa.
The four-praline box, launched for Valentine's Day 2020, has an innovative structure: the external packaging is made from a single piece of paperboard which forms a heart.
"The heart-shaped pralines are protected by dispersion coated barrier board on the packaging's inner surface."
Dispersion coated barrier board is recyclable and biodegradable.
Design adds value
Kultasuklaa chose dispersion coated barrier paperboard because it is recyclable and biodegradable. The paperboard does not require plastic separation and can easily be recycled together with other paper or paperboard.
"The design is a really beautiful innovation that certainly adds value to our product," Kaskela says, adding that discussions with Metsä Board started a couple of years before the actual launch.
"We had great dialogue from start to finish. It is a tremendous advantage to have world-class expertise available for a smallish company."
He adds that Metsä Board experts were quick to grasp the challenges related to premium chocolate. For example, the packaging needs to protect the products from air and light, while maintaining suitable grease and moisture resistance.
"We speak the same language. The innovation process itself was rather quick. Metsä Board already knew us well."
---
This article was originally published in Fibre Magazine issue 2022–2023.