​A new market for new wood products is opening. With further treatment, the fine properties of wood can become even more diverse. 

"The use of wood keeps growing, and thermally modified products are riding a wave of popularity," says Maija Masalin, Vice President of Marketing and Product Management at Lunawood, which makes patented ThermoWood products. 
"Total production volume by the members of the International ThermoWood Association doubled in 2010–2020." 
VTT Technical Research Centre of Finland began to study thermal wood treatment in the 1990s. It discovered that thermal treatment changes the properties of timber permanently. Heat and steam remove the resin from softwood and give it an even, dark colour. After treatment, the wood absorbs only minimal amounts of water, and its resistance to soft rot increases significantly. The timber's susceptibility to mould is also greatly reduced. 
Recent years have seen the introduction of many new ways of treating wood, such as by drying and then acetylising it, i.e., treating it with vinegar. In thermo-mechanical modification, fresh wood is dried and then put into a mechanical press.
By various different methods, wood modifications generally aim towards the same goal: to improve resistance to moisture, fire and soft rot. They also seek to reduce expansion and contraction due to changes in humidity. All this is done without hazardous chemicals.
"By heat and steam treatment, we produce a finished product that contains no chemical residues. It is ready for use, indoors and out, under all climatic conditions anywhere in the world."
On the south side of the Gulf of Finland, in Estonia, Puidukoda is another company with an advanced, open-minded attitude to treating wood.
"Our most important product is exterior and interior paneling. We focus on painted or otherwise specially treated products," says Puidukoda CEO Eveli Opmann.
Puidukoda sells all its paint-coated products under its Woodmood brand.
"Paint-coated products currently account for roughly 15 per cent of our sales. We only use water-soluble paints, and all our painted products come with a ten-year warranty. We worked with our paint supplier to create installation and maintenance instructions that help protect the coat of paint."
Puidukoda sells a wide variety of different painted surfaces, wood tones and textures. Like Puidukoda, Lunawood has also focused on product development.
"In designing the Lunawood product range, we used Scandinavian design skills. Our products show how versatile thermowood is in both outdoor and indoor use, and inspire architects and designers," says Masalin.
Lunawood and Puidukoda both have strict material requirements and will only use sound-knotted Nordic softwood.
"This is very much a raw material business. Thermal treatment at a very high temperature requires the world's best wood, carefully selected, to achieve a high visual and technical standard in the finished product," Masalin explains.
Metsä Fibre provides Lunawood with pine and spruce sawn timber from its many sawmills. Lunawood wants to know the exact origin of the wood. 
"We favour local wood. Logs travel an average 235 kilometres to our mills, and we can tell this to our customers with confidence. PEFC™ certification is also important to us. Trustworthy material suppliers are vital to our operation."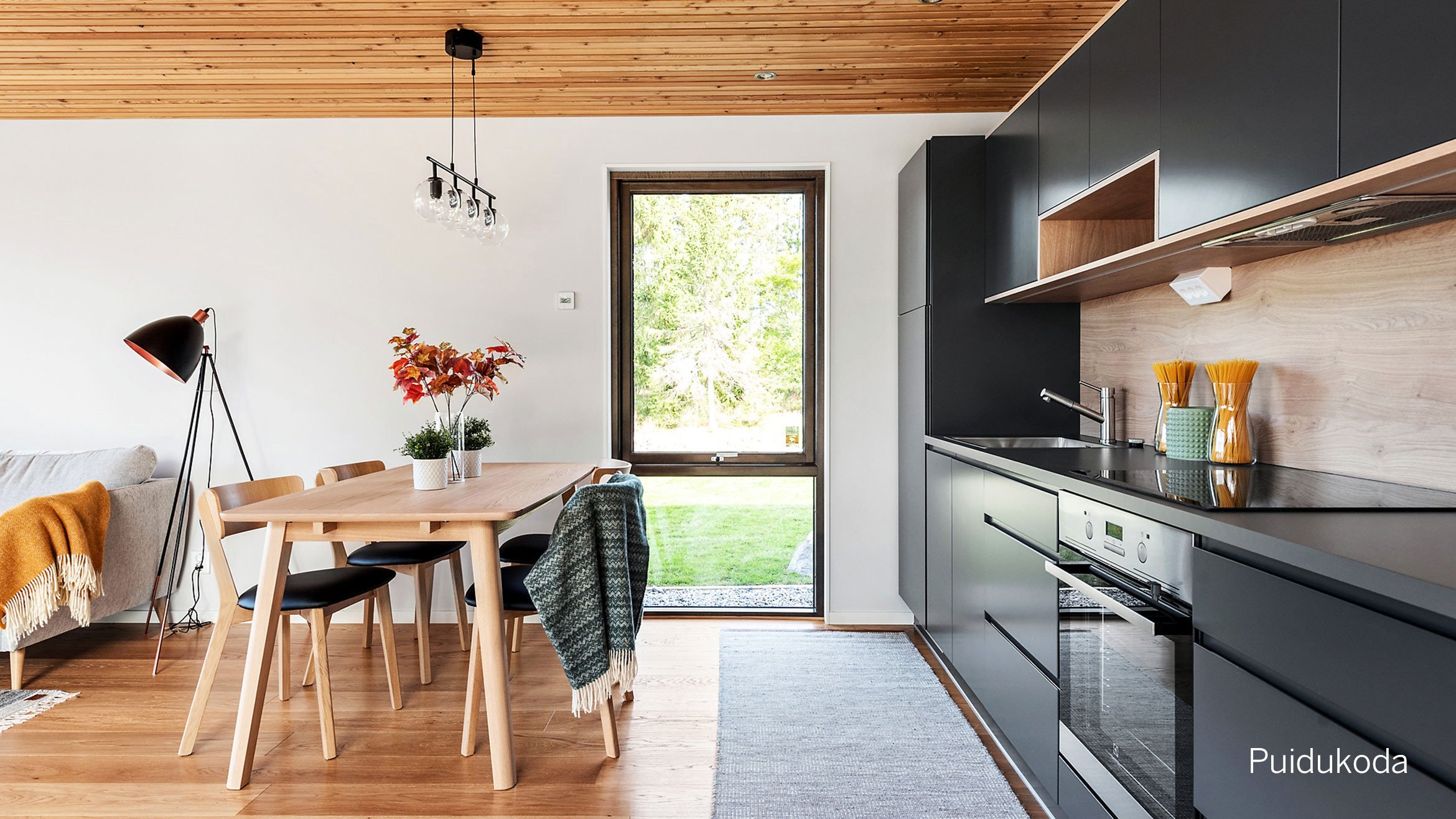 Safe and healthy wood
Wood is becoming increasingly common in interior cladding. Manufacturers can provide a wide variety of panels and battens of different widths, which can be either pre-treated or untreated.
"Wood that is as natural as possible is currently popular especially in interior paneling. Another strong trend is the use of narrow battens on walls and ceilings. This is something we can see in all our global marketing channels. I am looking forward to the day when wide panels come back into fashion," says Masalin.
Consumers and designers alike have many conceptions and opinions about the health benefits of wood. Today, there is a great deal of research available on the subject. 
In Austria, a one-year study* compared wood-paneled classrooms to others without. The results showed that in a classroom with wooden paneling, the students' early morning stress levels fell soon after arriving in school, and the levels did not spike, unlike in regular classrooms. Heart rates were also more relaxed and the stress level in classes was reduced. 
With the right treatment, wooden surfaces breathe and help to balance out temperatures and moisture, which improves the quality of interior air. In general, wooden surfaces are seen to have a calming and pleasant influence. 
"Wood activates all the senses when it is used for indoor cladding. It has a strong influence on what people see, feel, smell and experience. Properly used, wood can have an impact on human wellbeing and make the cityscape more enjoyable," says Masalin.
With the right treatment, wooden surfaces breathe and help to balance out temperatures and moisture, which improves the quality of interior air.
Wood offers solutions to environmental challenges
Another benefit to wood refining companies is from global awareness of sustainability, which is now influencing consumer preferences.
"People have begun to understand what it means for wood products to be a carbon store for their entire lifecycle. Other factors apart from just price are beginning to influence buying decisions. People want their choices to have an effect," says Masalin.
Opmann believes that personal concern for the home and the environment has started a construction trend that may become permanent.
"People are spending more time at home, renovating their houses or building new garden sheds or saunas – and they are all doing it at the same time!"
Wood is increasingly the first choice of buyers, builders and the authorities. Over one third of the EU's carbon dioxide emissions is generated through construction. 
To achieve the European Commission's emission reduction target of at least 55 per cent by 2030, EU member states will have to reduce the greenhouse emissions that buildings generate by 60 per cent.
"Stricter environmental requirements generally lead to an increase in the use of wood-based materials. On the other hand, wood usage is only now beginning to increase significantly. The economy will have to eliminate the use of fossil materials and migrate to a closed carbon cycle based on biological materials. In the long term, it will be very difficult to find a more durable construction material than wood. Wood is a true solution to the environmental challenges we face today," says Opmann.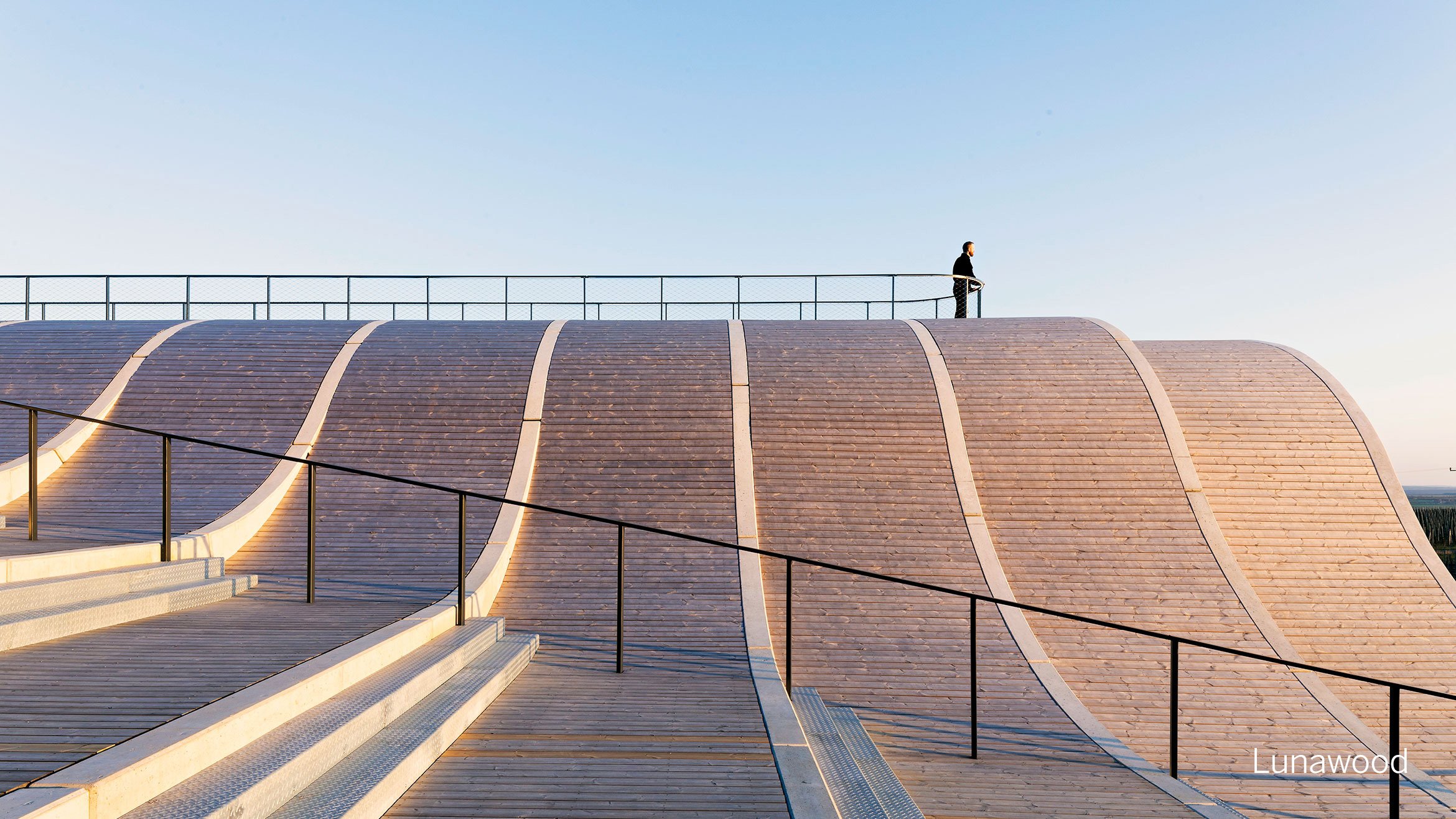 Infinitely modifiable wood
In the 21st century, many architects have adopted wood for the facades and inner surfaces of their buildings. 
"Many architects want to use material that is natural and contains no chemicals. Wood matches that desire, while it brings softness to a scene, space or view. Its immense variety as a surface material also speaks volumes for the use of wood. No one piece of wood is the same as another," says Masalin.
Professor Sami Rintala, who works in the northern Norwegian town of Bodø, gives an architect's view.
"First of all, architects have an interest in sustainability and they usually want to learn how to do their job better. You can spend your whole life trying to understand wood and still not know everything. The way you treat wood, whether with oil, linseed, wax or heat, will always change its properties. It is always a surprise how well wood can handle moisture and wear, as long as it is used correctly," he explains.
"On the other hand, wood is an incredibly varied and scalable material. You can make every part of a building from wood, from the door handles to window frames, to the ceiling and insulation. And it is infinitely modifiable."
Rintala's latest large project is the ship museum in Bodø. Wood is the base material in all his work. 
"It is a very democratic material, wood. Everybody can afford to buy the tools for cutting and modifying wood. Anybody can build a wooden house, if they have the will."

* Source: Institute for Health Technology and Prevention Research.
---
This article was originally published in Timber Magazine issue 2021-2022.
Photos:
Lunawood: Project Ö, Architects Aleksi Hautamäki and Milla Selkimäki and Lahofer Winery, Architect Chybik + Kristof Architects & Urban Designers, Alexandra Timpau, Alex Shoots Buildings.
Puidukoda: Interior panelling.