Maritime logistics control plays an important part in Metsä Fibre's customer service.
"Our business is global, and our markets are often far away across the ocean. So, to ensure on-time customer deliveries, we need to have excellent control of maritime traffic," says Timi Hyppänen, Vice President, Supply Chain at Metsä Fibre.
At the beginning of the year 2021, Metsä Group launched a new Maritime Logistics Service Centre, which now houses the operational activities for maritime transport of Metsä Fibre and the Group's other business operations. Agreements with ports and shipping companies were already being concluded at the Group level.
"The strategic and tactical management, planning and operational activities for maritime logistics are now handled at a single location. We can now improve operational reliability and satisfy customer needs better than ever," says Hyppänen.
Forward planning
The Service Centre works together with business operations, shipping companies and ports to predict changes in the demand for pulp and sawn timber, as well as long-term transport needs, as accurately as possible.
"We have an overall view of the situation and customer needs in all business operations. We can plan our operations better, allocate resources across business areas and ensure that customer deliveries reach their destination," says Iivari Taurula, head of the Service Centre.
Business operations can be expanded into new geographical areas faster.
"If one of our business areas is looking to expand its operations, there is often a logistics chain in place already. We can therefore quickly scale up our operations."
Delivery information submitted to customers
Careful planning and monitoring by the Service Centre ensures that the logistics chain is ready for deliveries when needed.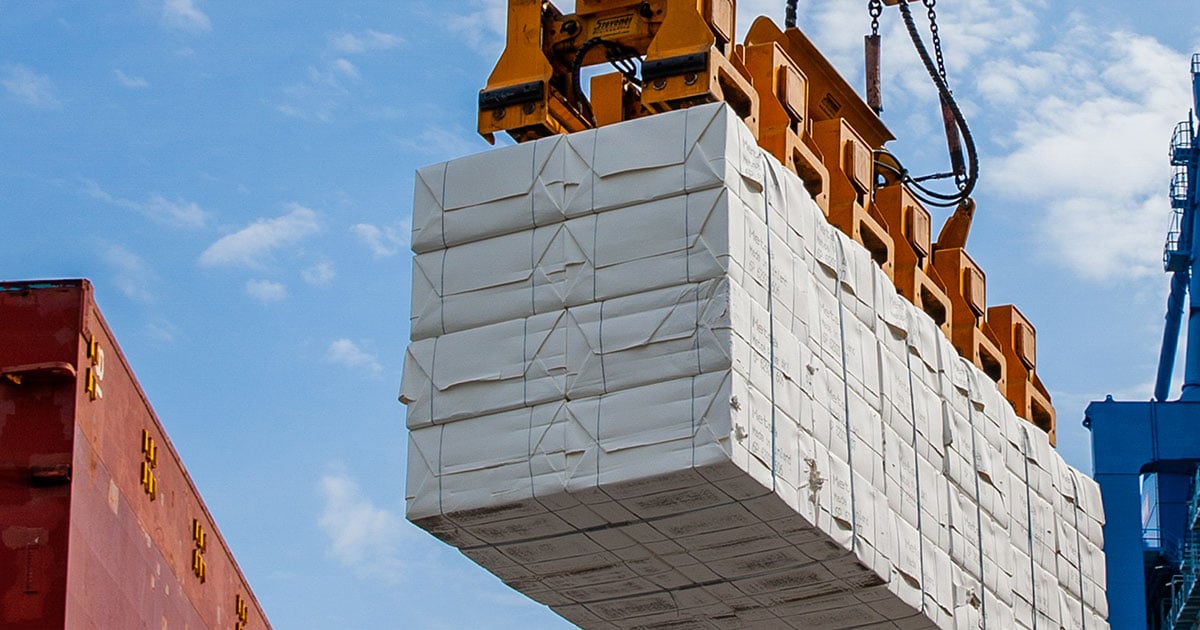 It selects the best mode of transport for each customer delivery. Then, logistics coordinators book the required capacity from shipping companies and follow the progress of deliveries. Information about progress is also submitted to the customers.
"We ensure that the information sent to customers is accurate and up-to-date. Customers have access to reliable data, which they can use to plan their own operations," says Hyppänen.
Reducing the carbon footprint
The Centre's logistics coordinators are divided into two teams. One focuses on container transport and the other on bulk transport operated by fixed-route services or tramp vessel services.
"Much of our daily work involves booking transport capacity and transmitting information to ports and business operations," says Hannu Heikkinen, who leads the fixed-route and tramp-services team.
In bulk transport, deliveries are combined so that ships can sail as fully loaded as possible. For example, ships sailing from Finland directly to China carry both pulp and sawn timber.
"We want to help ensure that ships carry full loads in both outward and return sailings. This helps us reduce the carbon footprint of our deliveries."
Container traffic, with large ocean shipping companies as partners, is often used for customer deliveries of both pulp and sawn timber.
Container vessels sail the most important routes for global trade. Economic cycles have an immediate impact on container traffic and at times, containers are in short demand or end up in the wrong ports.
"We have chosen good partners during the procurement stage, and they help us with challenging traffic conditions. And we always plan alternative routes," says Niina Taipale, who leads the Service Centre's team for container transport.
Skilled personnel
The Service Centre's employees were recruited in late 2020, and by the spring of 2021, the Centre was operating at full speed. In addition to logistics competence good language skills are required.
"Our Service Centre staff speak Finnish, Swedish, English, Russian, German, Croatian, Mandarin Chinese and Cantonese," says Taurula.
"We will now continue to develop our internal efficiency and seek synergies between our business operations in operational activities and the logistics network. We will also deepen our cooperation with suppliers and build new solutions that offer better logistics services to the end-customer."
The year at the Maritime Logistics Server Center
13,000 container shipments
2,500 fixed-route shipments
1,000 bulk cargo shipments
120 countries of destination
This article was originally published in Timber Magazine issue 2021-2022. Take a look at the magazine: https://customermagazine.metsafibre.com/mag/timber-2-21_en/1-11