Decaying wood emerges in forests naturally when trees die as a result of damage, as well as from retention trees left on felling sites. The lack of decaying wood continues to be the most common single cause for the endangerment of forest species.

High biodiversity stumps are easy to make. They offer an inexpensive way to add more standing decaying trees in your forest and boost forest biodiversity. The humidity of a decaying stump varies at different heights, thereby providing the species living in the dead tree with very varied conditions. It is particularly important to increase the amount of decaying wood in young and mature growth forests where decaying wood is scarce.
In Metsä Group's felling operations in Finland, high biodiversity stumps have been systematically left in the forest since October 2016. At first, two such stumps were left per hectare. In wood sales concluded since the beginning of 2020, the number was doubled and is now four per hectare. It is the forest owner who decides whether to leave high biodiversity stumps in place. In 84 per cent of our 2021 wood sales, the owner opted for stumps.
Broadleaved trees make the best stumps
Broadleaved trees are favoured when selecting candidates for high stumps. Trunks that have reached the size of pulpwood can be used for high biodiversity stumps. Sturdy aspen, downy birch of poor quality, as well as curved or damaged broadleaved trees also provide good material for high biodiversity stumps.
Mixed forests are favoured whenever they are suitable for the growth site. If a felling site only has individual broadleaved trees here and there, they are better left as retention trees than made into high biodiversity stumps. In this case, high biodiversity stumps are made of coniferous trees.
We provide hole nesters with nesting trees
If a high biodiversity stump is to provide a home for woodpeckers and tits, it must be decayed and of a broadleaved species. It takes many years for the trunk to decay. While the nesting density of birds varies greatly, the average number of bird pairs nesting per hectare of Finnish forest ranges from one to four. Four high biodiversity stumps per hectare therefore ensure a good addition to the number of hollow trees in the future.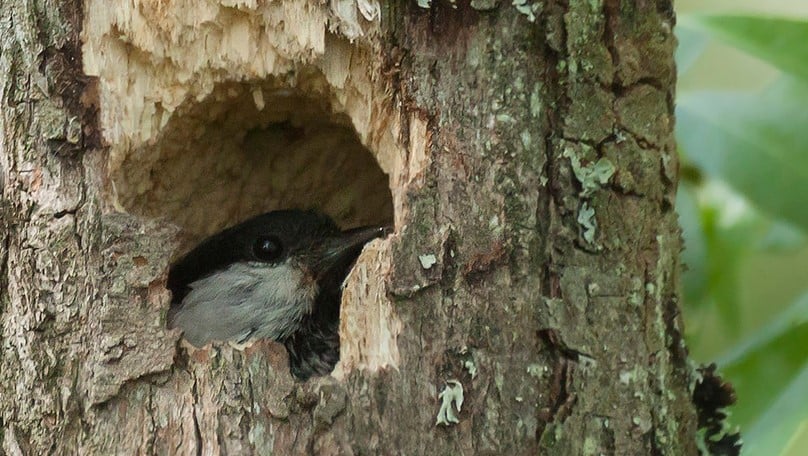 Metsä Group is the biggest single buyer of wood in Finland, and we operate over large areas. The biodiversity actions of individual forest owners multiply, and every day of the year, we make hundreds of trees that will provide a future home to hole nesters.
High biodiversity stumps in thickets or as retention trees
Protective thickets are ideal spots for high biodiversity stumps. These come about when underwood and brush are left untouched during clearing and felling. Protective thickets offer safety to animals and birds.
In regeneration felling, it is advisable to leave a high biodiversity stump within a group of retention trees, given that a high stump sticking out from the middle of a seedling stand may look unattractive to some people. On the other hand, it provides birds of prey with a fine lookout spot. A high stump in the middle of a thinning forest, however, is not as visible.
It would be a good idea to think about the location of the retention tree group as early as during the first thinning and to leave more deciduous trees in the relevant spots. A forest that includes deciduous trees throughout its life-cycle benefits both nature and the forest owner's wallet: deciduous trees with a low financial value make ecologically valuable high stumps or retention trees.