A dead tree is home to nearly 5,000 species, which accounts for nearly a fifth of all forest species. Most of these are wood decay fungi and invertebrate insects. Conks, of which nearly 300 species have been identified in Finland, are another familiar group.
Research indicates that the lack of dead and robust old trees in commercial forests is one of the main reasons for species being endangered. One way to prevent the endangerment of forest species is to increase the number of dead and old trees in the forest.
Sustainable forest management is a form of nature management
Two voluntary international certification systems – PEFC and FSC® – are in use in Finland. By certifying their forest, the forest owner commits to complying with nature management criteria that exceed the requirements imposed by legislation. These include leaving retention trees in place and retaining dead trees.
The purpose of leaving retention trees and decaying wood in the forest is to soften landscape changes from felling, as well as to safeguard biodiversity. Damage to standing or fallen decayed wood during harvesting and forest management work is avoided.
During the rotation period, retention trees develop into old trees in a young forest. When these retention trees die, they produce sturdy decaying wood throughout the rotation period. If the whole stand is cleared of trees in regeneration felling, and no retention trees are left in place, no old trees or sturdy decaying wood can form during the rotation period.
"If you want old trees that have been in place significantly longer than the retention period, you must make an effort to save them," says Juha Siitonen, a researcher at Natural Resources Institute Finland, who specialises in the nature management of commercial forests.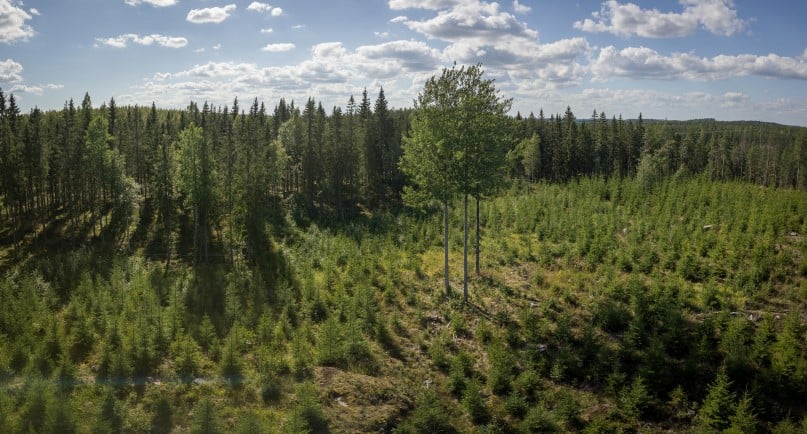 Retention trees make a difference
As a rule, all trees are valuable as retention trees, because each tree species offers a home to a specific set of species, including endangered species. Our most common tree species – birch, spruce and pine – account for 97 per cent of the trees in our forests, with aspen accounting for the largest share of the remaining three per cent. Old and dead specimens of the rarer tree species are in greatest shortage in our commercial forests. To increase biodiversity, it makes sense to retain these tree species.
"Trees that are few in numbers are also of lesser financial value, and often bring in no more than the price of firewood. It therefore also makes sense from a financial perspective to choose these tree species as retention trees," Siitonen points out.
Sturdy decaying trees are important
In view of biodiversity, it is best to leave trees with a diameter of more than 20 centimetres as retention trees, because it is less effective to wait for smaller trees to grow more robust. The age of the tree is another important factor, but it is often more difficult to determine. Age and sturdiness are usually correlated: large trees are often the oldest.
The bark of aspen and pine and the top of pine can also reveal a lot about the age of the tree, even if the tree is smaller because of a barren growth environment, for example.
Different species often specialise in a specific development stage of the tree. Many species thrive in overage trees that are in weak condition. For example, epiphyte lichen, moss and several decaying wood insects feed on the dead parts of living trees. "Dead trees are populated by different species at different stages of decay," Siitonen says.
Epiphyte species become more abundant the older the trees become, because their bark becomes thicker and more alkaline, offering a larger surface to attach to. "Overall, epiphytes have more time to spread and grow on the bark of old trees."
Some conks are found on living trees, exposing the heartwood to decay. Aspen affected by conks gradually become hollow, while in pines, conks cause decay in the heartwood. However, conks mostly appear on dead trees.
All tree species have their own, specialised species. "Endangered species clearly prefer aspen to our most common tree species."
"All tree species have their own, specialised species. For the sake of biodiversity, it is therefore important to retain a diverse range of trees in the forest. For example, aspen offers a home to numerous endangered and rare species," says Siitonen.
"Not to mention our valuable broadleaved trees – the great sallow, rowan tree and black alder – that add to biodiversity."
Aspen as retention trees among pine trees
Leaving aspen as retention trees in a pine forest may not be the best option because of pine twisting rust. Young aspen and coppices of aspen serve as intermediate hosts to pine twisting rust. Old individual aspen that have been left in place as retention trees do not usually spread the disease.
If you find an old and sturdy aspen retention tree in a pine forest, leave it in place. Felling such a tree may lead to an abundance of root shoots, which in turn serve as intermediate hosts for pine twisting rust. Aspen retention trees are best left in spruce forests or forests dominated by broadleaved trees.
How much decaying wood is enough?
In a commercial forest, the amount of decaying wood can be safely increased without endangering the health and vitality of the forest. An increase in the amount of decaying wood makes it more likely that a variety of trees at different stages of decay in the forest will be found. Retention trees do not die all at the same time, but gradually, forming habitats suitable to several species.
"A realistic goal in commercial forests could be to double the amount of decaying wood from the current 4.3 cubic metres per hectare," says Siitonen.
Surveys of nature management in commercial forests indicate that the volume of retention trees left per hectare is currently around 2.5 cubic metres. If this figure could be doubled to five cubic metres per hectare, and if the decaying wood already in the forests could be retained in harvesting, the amount of decaying wood in commercial forests would double in the long term. "We're not talking about an expensive measure that could risk wood production," says Siitonen.
Message to forest owners
Natural Resources Institute Finland is carrying out a project related to the METSO programme to survey regeneration felling sites of different ages, with varying amounts of retention trees. Some of the retention trees are still alive, but others have died and are now decaying.
The preliminary observations have found endangered species such as lung lichen on aspen and endangered conks in both highly decayed dead trees and living retention trees. In other words, the efforts and measures to promote biodiversity have not been useless.
"I'd like to encourage forest owners to leave retention trees and existing dead trees in place. We don't leave them there for the sake of appearances. They really do make a difference," Siitonen says. Since commercial forests will continue to account for the bulk of Finnish forest land, the measures we take in these forests is vitally important to many species.
Metsäliitto Cooperative's PEFC logo license: PEFC/02-31-03
Licence number of Metsäliitto Cooperative's FSC group certificate: FSC-C111942
The article was published in issue 4/2020 of Metsä Group's Viesti magazine.