The track made by the Ponsse machine shows clearly in the snow. Here and there, birch, spruce and pine trees have been made into small piles.
It is still difficult for a non-expert to discern where trees have been felled, which makes you wonder whether more trees should have been removed.
"When you have a very dense stand to thin, it often remains somewhat dense even after you finish," says machine operator Aki Kallinen, from Liperi in Eastern Finland.
It is always heart-warming to be recognised for one's good work. Kallinen has had his share of praise.
"You always try to do your best and leave the forest looking as good as possible – with the forest owner's wishes in mind."
Speed and patience
According to some estimates, a forest machine operator gives the machine more than 4,000 different commands an hour, and decisions must be made continuously and rapidly.
There's no time to waste; a lot of money is tied to the machine. Though work must progress, rushing things would be even worse.
"You need patience to assess the results of your work every now and then," says Kallinen, who has been harvesting wood for nearly 20 years.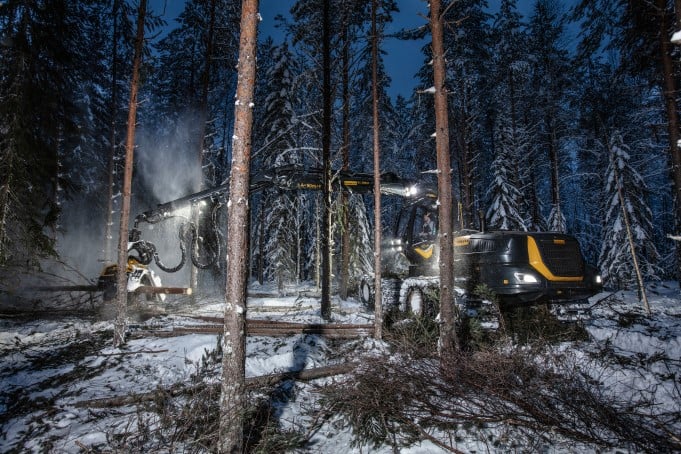 The clearing saw is dear to a harvester operator
What does a machine operator consider the most important factor in ensuring that the forest looks good after the first thinning?
Kallinen unexpectedly shifts the focus from machinery work to a period preceding thinning by 10–20 years. He speaks warmly about clearing saws and their users.
"Good harvesting results start with timely young stand management. This means that the forest does not grow too dense, and trees have space to grow.
For forest owners, young stand management is one of the financially most profitable investments they can make during the forest cycle. The money and time invested in the work lead to additional euros from felling, more vibrant trees and a higher quality of thinning.
"It makes thinning much easier compared to a stand full of thin stems next to one another," says Kallinen.
Aid from inspections
Experience has trained Kallinen's eye to estimate how many trees to fell and how many to leave in place in thinning.
However, he cannot blindly rely on hunches. Kallinen gets assistance from Metsä Group's guidelines, also known as thinning models in professional jargon. These models indicate the number of trees to be felled and adapt to the lushness of the site and the thickness of the stems.
"You can use them to ensure that you leave the right number of trees to grow in a semicircle with an 11-metre diameter."
Kallinen can easily check the diameter's length using the harvester's crane, which also measures 11 metres. On this site in the northern part of Kontionlahti, 800–900 stems should be left to grow per hectare.
Metsä Group and Kallinen jointly inspect the results of work.
The machine operators' tasks include occasionally checking the number of trees remaining, the width of the tracks, and the distance between tracks.
The operators record the results in Metsä Group's internal harvesting control system. A few times a year, Metsä Group's representative also assesses each harvester that carries out thinning on the site.
Eyes towards the tops
Despite the dusk creeping in, Kallinen makes swift progress in harvesting. His eyes move constantly, keenly scanning the quality of stems, treetops, the track and suitable felling directions.
Once Kallinen has determined the number of trees to be felled, his task is to choose the most suitable trees.

"I keep examining the tops and stems. First, you fell trees that are sick or of poor quality. Then, you leave the best trees spaced as evenly as possible, ensuring the appropriate density," says Kallinen, summarising the goal of thinning.
Text Heikki Hamunen
Photos Harri Mäenpää
This text is an abbreviated version of an article published in Metsä Group's Viesti 1/2023.