"We use SAGA GN Liner Cooking Paper a lot for fish, meatballs, frankfurters, baked sausage and casseroles. You can slip the paper into the baking dish so easily, that it has become automatic. Washing the oven dishes has become a whole lot easier with SAGA," says Ari-Matti Haataja, in charge of kitchen services at Kajaani high school.
Institutional kitchens usually use granule pot washers that shoot washing granules under pressure into the baking dishes to remove burned-on food. Using SAGA GN Liner Cooking Paper means that granule washing can be completely eliminated. In Haataja's unit, everyone takes turns making food and washing dishes, so reducing the amount of dishwashing helps everyone. Haataja continues, "I can tell you that SAGA GN Liner Cooking Paper really helps to keep the people happy, who are washing the dishes."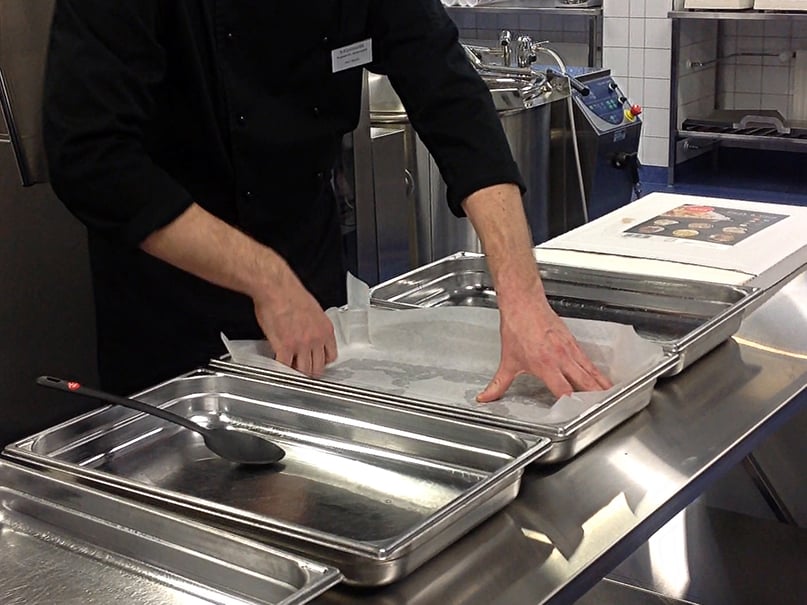 Valuable product development
According to the managing director of Kajaanin Mamselli, Tuija Vuorinen, the product development carried out by SAGA is extremely valuable. "One of the goals of our environmental programme is to reduce the amount of food waste. Thanks to SAGA GN Liner Cooking Paper, all the food prepared in the dish can be used" says Vuorinen.
Minimising food waste as well as water and electricity consumption has financial benefits as well as environmental ones. Vuorinen also emphasises the social aspect. "Making work less difficult eases the burden on workers, improving well-being at work."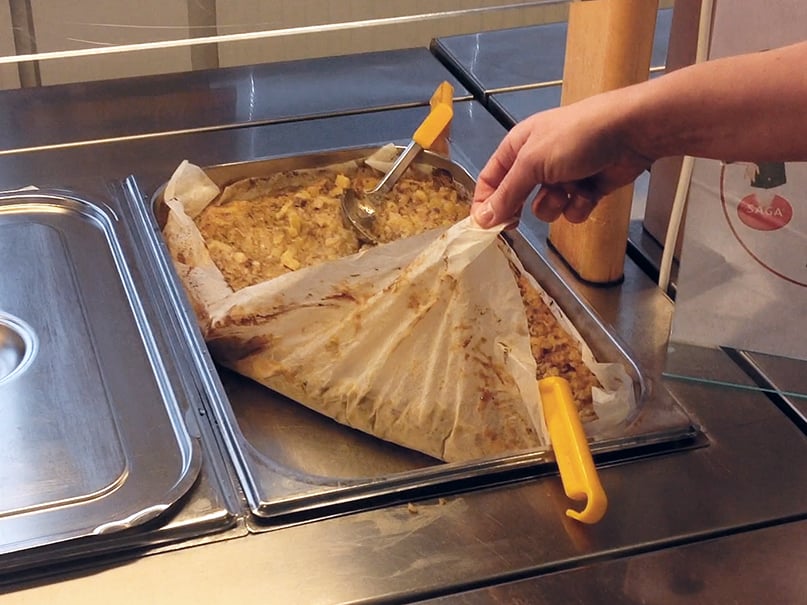 It should also be noted that Kajaanin Mamselli was selected as the best place to work in Finland in 2014 in the medium-sized enterprise category.
According to Vuorinen, Kajaanin Mamselli is happy to help promote SAGA, since the product works well and is worth advertising. "At our request, SAGA sent us some very good info stands that gave diners clear information on the use and benefits of their products," says Vuorinen. "We like to partner with organisations that are ready to try alternative and responsible ways of doing things."
In the school kitchen, they are always thinking about how the job could be done better, and all their innovations are gladly shared with others. "SAGA GN Liner Cooking Paper sits nicely in the pan if you first wet the pan with a big pastry brush. Just fill a jug with water and grab a brush!" says Ari-Matti Haataja.