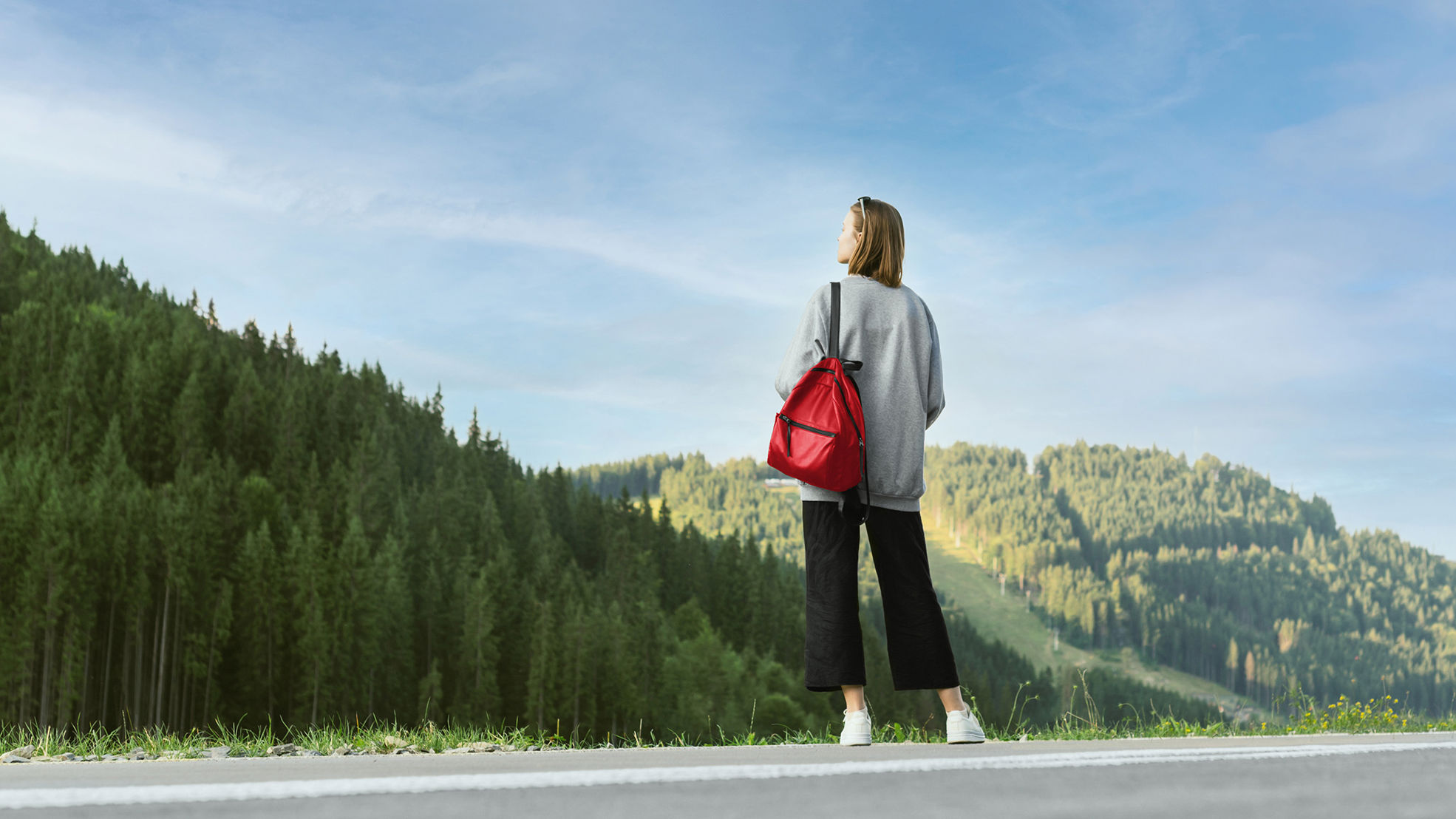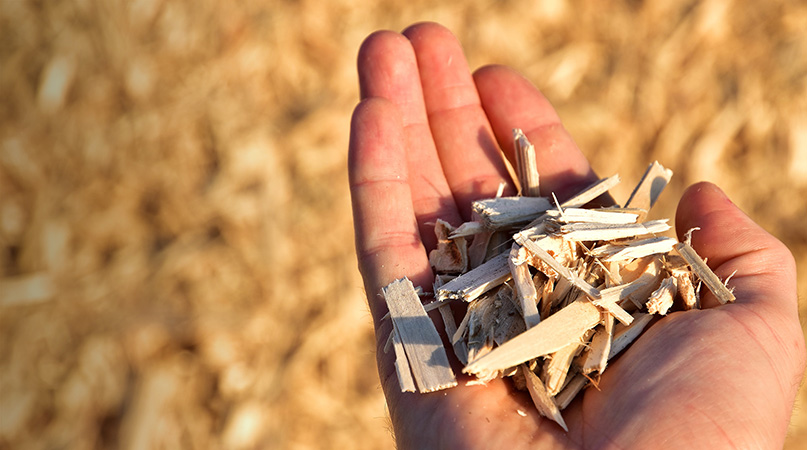 Sustainable raw material
Efficient use of the renewable wood raw material is important and Metsä uses 100 % of each tree in efficient and appropriate uses. This way Katrin's fresh fibre products originating from renewable wood play an important part in a sustainable bioeconomy. The majority (60 %) of each tree is used as logs for wood products that are used in eg. construction or furniture. Approximately 25% of an average tree is used as pulpwood to produce pulp for tissue papers, carton board and other bioproducts. The remaining 15%, branches and treetops, are used to produce renewable energy. Fresh fibre tissue paper production at Metsä Tissue mills is less resource consuming than recycled production. A carbon footprint study by external consultancy company AFRY in 2021 revealed that when comparing sample of fresh fibre based tissue rolls to similar recycled rolls produced in Metsä Tissue mills, the fresh fibre had on average 20% lower carbon footprint.

The availability of recycled paper has been steadily declining due to increased digitalization and remote work. The situation in the future looks even more challenging, both with regards to availability and quality. Many times recycled fibres must be transported over long distances. Today the Nordic forests are larger than ever, thanks to a focus on long term and sustainable forestry. And forests bind carbon over a long time, both in the growing trees and in the wood based products that are produced from renewable raw material.
Sustainable production
We continuously strive to achieve a more sustainable production in all our paper mills. Part of the success is getting a high output from the raw material that is input to the process. We are therefore increasing the use of fresh fibre in Metsä Tissue production - the raw material utilization in our tissue paper production is approximately 90 % with fresh fibre. This is compared to only approximately 60 % utilization when we use recycled fibre as raw material. So with fresh fibre, there are less trucks needed for transporting the incoming raw materials, more product output and less waste to handle.
On top of this, we have seen at Metsä Tissue production that the use of fresh fibres saves energy and water, because the fresh fibres require only minimal processing in the tissue paper mill, while the recycled fibres need to be purified before use. Fresh fibre is a naturally pure and hygienic raw material for the production of hygienic papers.
Produced close to the market
Our products are produced close to the raw material and close to our customers. We also aim to maximize the load of every lorry leaving our mills to reduce the volume of air we transport. These are two important aspects as they reduce the transportation needs and hence reduce the carbon-dioxide emissions from logistics. We strive to keep our transport journeys within 500 km radius from the mills. In addition, local production also benefits the local economy and creates jobs locally.
A hygienic choice
Tissue paper produced from fresh fibres is a safe and clean solution for daily hygiene. When using recycled fibres, the raw material has been in use previously and requires a thorough purification in order to be ready for use in hygiene products. The fibre quality in fresh wood fibres is also high, enabling the production of strong paper that has good absorption properties. High quality papers are good at removing bacteria from hands mechanically and drying hands quickly for good hand hygiene. And as we all most likely know from experience - when the quality of the paper is high, you can use less sheets to dry your hands than with lower quality tissues.
A lean and sustainable assortment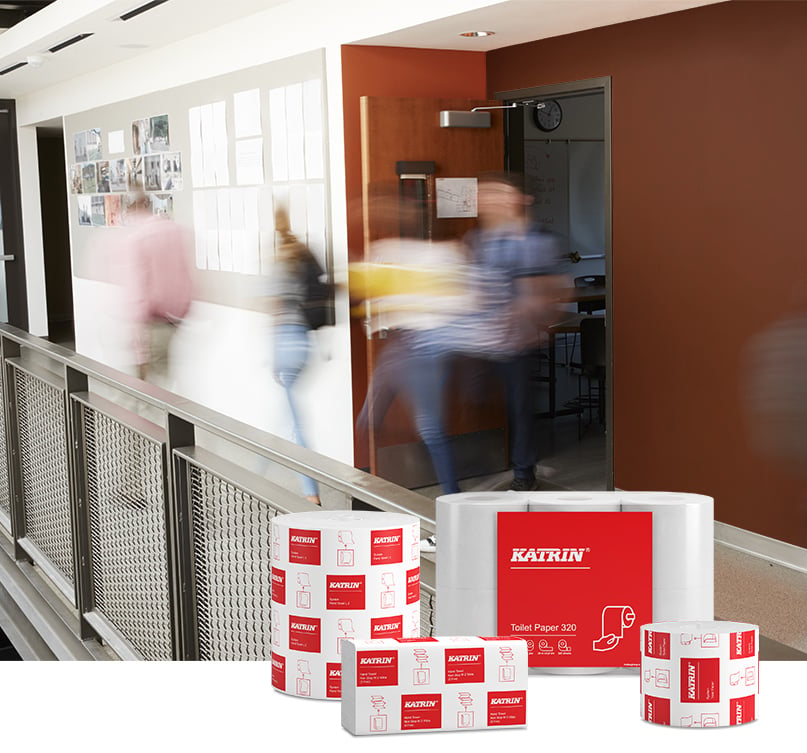 Katrin - good performance for all needs
Mix of fresh and recycled fibres
Good balance between softness and strength
Katrin Plus - best Katrin performance for extra care
Fresh fibre from sustainably managed forests
For sustainable hygiene needs and high performance demands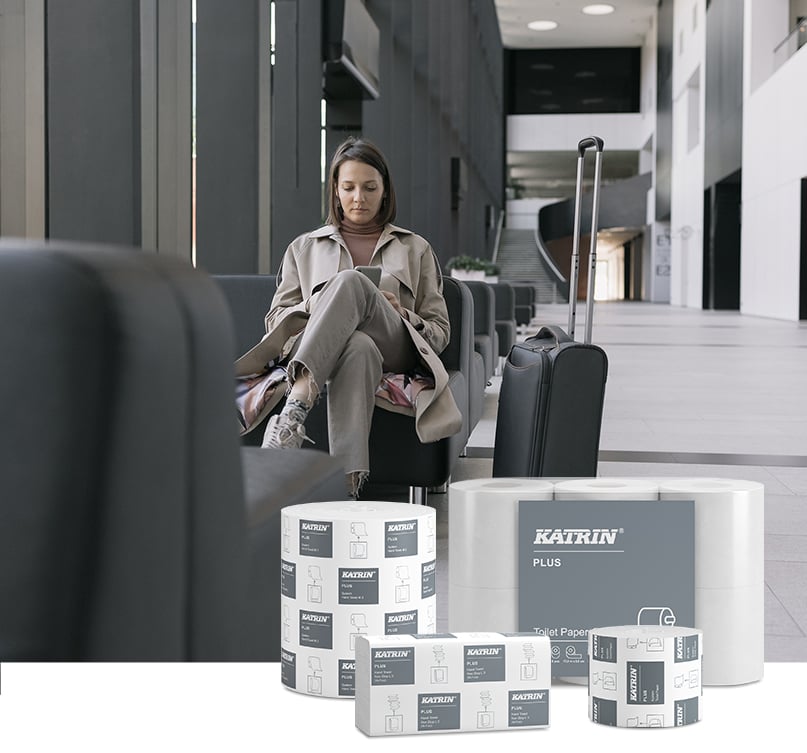 Choose wisely and save resources

Choose paper, dispensers and accessories based on the number of visitors and demands.
Let these two questions guide you:
How many people visits the washroom? Many or few. Is there a regular flow of visitors or high demand peaks. How often is the washroom serviced.
What are the needs? Are there specific demands regarding the paper quality e.g., high performing, sustainability or extra hygienic.
Top performing solutions can save resources due to lower consumption and less hygiene risks. Katrin papers, dispensers and accessories strive for maximum performance and maximum return.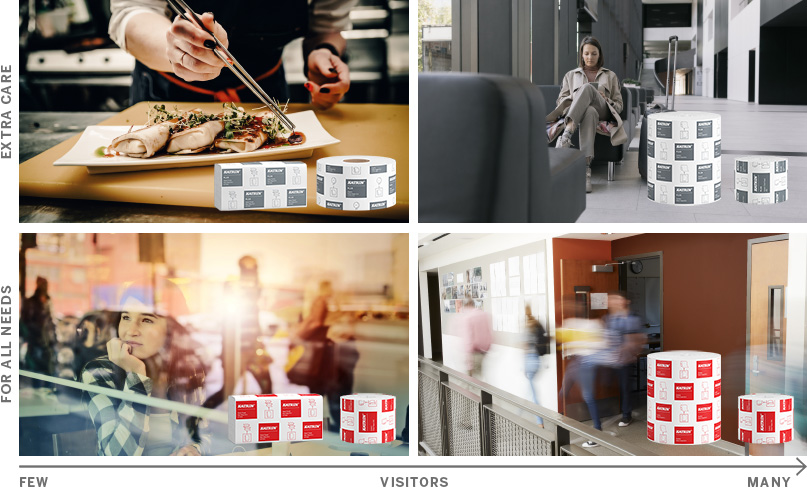 Fresh fibre benefits in Katrin products
Excellent performance
Efficient process
Less fibre washing (no de-inking process), means less use of water and energy in paper production
= Less CO2-emissions