Raw materials, energy and water are used as efficiently as possible. Every part of wood is used for the purpose for which it is best suited – logs are delivered to sawmills, pulpwood is used for pulp, other bioproducts and further processing, and branches, treetops and bark are used to generate bioenergy. The chips produced as a by-product of sawing are used in Metsä Fibre's pulp production.
Logs arriving at our sawmills are already optimally cut in the forest from the perspective of customer needs and the end products. This ensures that the end products are of a high quality, and that not even a splinter of this valuable raw material is wasted.


A unique bioproduct mill concept
The bioproduct mill concept developed by Metsä Fibre enables the future expansion of the product range with new bioproducts that provide an increasingly high added value. In the bioproduct mill concept, the wood raw material and production side streams are used in the form of various bioproducts, which can replace fossil-based materials and fossil fuels.
Resource wisdom is also implemented through cooperation with business partners. In an industrial ecosystem, different operators produce different end products using their own expertise.
The business ecosystem around the Äänekoski bioproduct mill is a prime example of business partnerships and their expansion. Metsä Group's innovation company Metsä Spring and Valmet have built a demo plant for a 3D fibre product in the Äänekoski mill area. The demo plant started its operations at the beginning of 2022, and it will be used for testing and developing a manufacturing method for a new type of fossil-free packaging solution.
The same ecosystem also includes the pilot plant of MI Demo Oy, a joint venture of Metsä Spring and Itochu Corporation. It produces textile fibres from pulp. Moreover, Gasum and Metsä Fibre have agreed on cooperation in biogas processing at the biogas plant operating as part of Metsä Fibre's Äänekoski bioproduct mill. Gasum will buy the biogas produced at Metsä Fibre's plant for use as a road transport fuel in Gasum's filling station network. The biogas plant will also produce bio-pellets, which will be used in power plants for energy production.
In collaboration with Veolia, Metsä Fibre has also investigated the purification of raw methanol created in the pulp production process into commercial biomethanol. As part of this partnership, Veolia is planning to build a raw methanol processing plant in connection with the Äänekoski bioproduct mill.
Metsä Fibre's own resource efficiency has also been improved through new bioproduct solutions. At the Äänekoski bioproduct mill, the production of sulphuric acid from the mill's odorous gases has expanded the mill's closed chemicals cycle. It also minimises any sulphate discharges into the waterways. The same technology would be used at the planned Kemi bioproduct mill.
Metsä Fibre's Joutseno mill and the company's bioproduct mill in Äänekoski both produce product gas from bark. This product gas is used as a fossil-free fuel in the mills' own processes. The planned Kemi bioproduct mill would also have a similar gasification plant. Our goal is that in the future, all of our mills will operate completely without fossil fuels.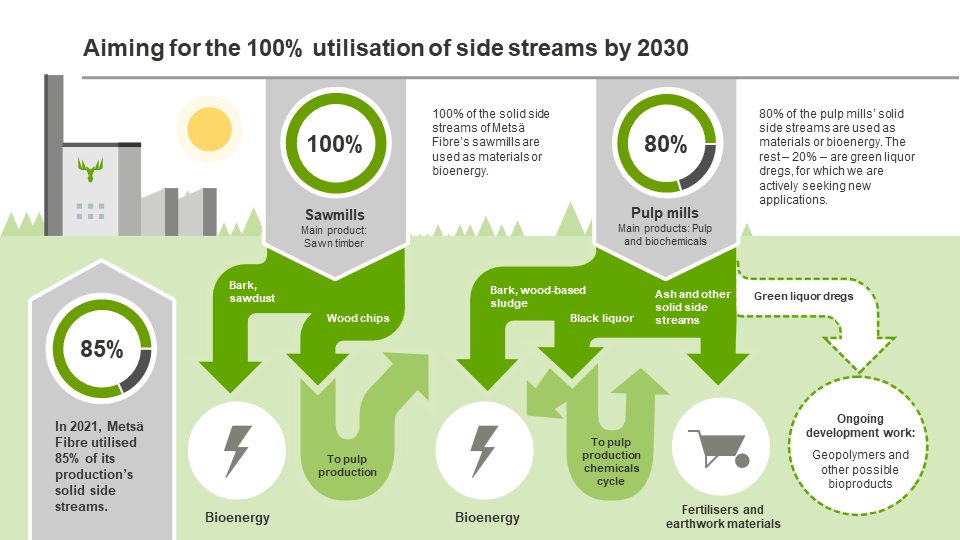 The potential of green liquor dregs
Currently, Metsä Fibre is using 85 per cent of its side streams. A major reason for this utilisation rate is green liquor dregs.
Green liquor dregs are a fraction created during chemical recovery for which there has been no established use thus far. However, Metsä Fibre is actively looking for new uses for the green liquor dregs.
As a concrete example of research into the utilisation of green liquor dregs, a test field was constructed at the Äänekoski bioproduct mill in the autumn of 2020 in which green liquor dregs and ash were used in the structure. The environmental impact of green liquor dregs and the durability of the created structure will be monitored at Äänekoski.
If found technically suitable and environmentally acceptable, green liquor dregs could be used to replace virgin raw materials such as crushed rock and gravel in field structures to save natural resources.
One potential use for green liquor dregs is in making geopolymers that are produced from industrial side streams and can replace concrete. The dregs act as the alkali activators required in the process. They are less expensive than commercial alkali activators and have lower carbon dioxide emissions. Metsä Fibre is collaborating, for example, with the University of Oulu, in research related to this. The work is ongoing, but promising results have already been obtained.
Metsä Fibre and the University of Oulu are also collaborating on a project in which green liquor dregs are used to produce artificial stone. The dregs are used as a binder and activator in this production process, too. More development work will be required before the product is ready.
​International Sustainable Development Goals (SDGs) related to the target: